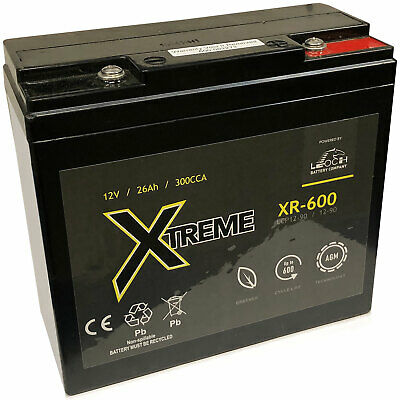 Please note: Battery images are for illustration purposes only.
Leoch 12 Volt 26Ah Sealed AGM Battery
Sold out
Our price:
£60.00
Note: Prices May Vary in-Store
Replaces Odyssey PC630
Features
• Typical uses - Racing Cars,motorcycles, jetskis & mobility scooters
• Absorbed Glass Mat technology (great durability and vibration-resistance)
• Totally sealed for life – dry-cell, unspillable and safe
• Maintenance-free
• Dual purpose – deep-cycle battery that can also be utilised as source of starter power
• Supports stop-start technology
• Superior performance in extreme temperatures
• Typical max. cycle life of 600 cycles @ 50% Depth of Discharge (DoD)
• Power demand level of intended application: Medium - Advanced (regular to frequent, intense (live-on-board) usage)
• 99.99% pure primary lead (PPL) for faster charging, better performance & a cleaner environment
Fitment List - this battery fits the following:
* Please check this battery matches your current battery size and terminal layout. We don't want to send you the wrong battery!