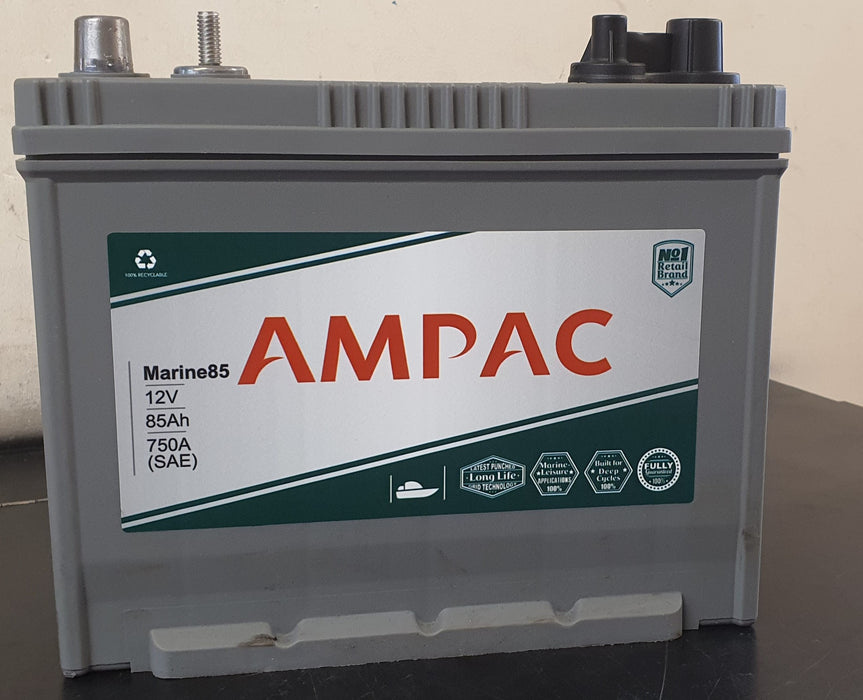 Please note: Battery images are for illustration purposes only.
Leisure Battery 12volt 85ah 750cca
Our price:
£95.00
Note: Prices May Vary in-Store
Ampac Marine/Leisure Batteries 12volt 85ah 750cca
Are specially designed to serve when there is a need for power in a caravan, Motorhome or a boat at sea. You can rely on Ampac Marine/Leisure Batteries when it is not possible to plug into the mains.
Ready to use with simple and safeinstallation Easy to carry with handles and Dual Pole terminals. 

Specifications
 500 Cycles

Length = 298mm

width = 165mm
Height = 238mm (to top of terminals)
85Amps
Cold Start Marine Cranking Amps: 750AH
Deep cycle & Starting
Sealed Lead Acid Flooded 
Magic Eye Charge Indicator
Comfortable reinforced carrying handle
Anti-flashback safety labyrinths
One year warranty
Perfect for Mobile Homes, Caravan, and Marine usage
Fitment List - this battery fits the following:
* Please check this battery matches your current battery size and terminal layout. We don't want to send you the wrong battery!